Allworx software features help your Knoxville business increase its productivity, efficiency and customer response.
System Software 7.5 Now Available! - May 2013
Allworx Highlights Great New Products to Embrace Effortless Communications.
System Software 7.5 builds on the rich history of Allworx product enhancements that has resulted in the huge popularity of the Allworx family of IP PBXs. Allworx demonstrates again that it leads the way by providing advanced features based on Allworx customer requests.
Here are the highlights:
Shared Call Appearances allow co-workers in a PBX environment to have the same call appearance on multiple handsets. Productivity improves as they avoid transferring calls when a simple hold will suffice.
A new Privacy Hold option enables calls placed on hold to remain on hold only on that phone, or they can be released so anyone with the same shared appearance can retrieve the call.
A greatly improved Park capability provides callers with a wealth of information about calls they or other callers have parked.
For administrators, there are new User Permission Levels that allow access to day-to-day administrative functions.
Enhanced security level passwords and strong user password protections improve overall system security.
More Info: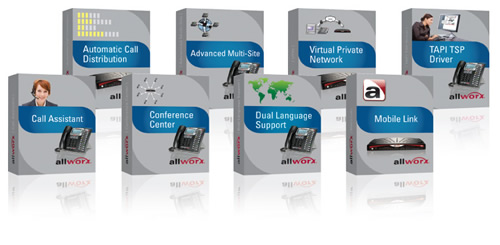 Advanced Multi-Site
Completely seamless call processing experience with true unification across all sites.
Automatic Call Distribution
A robust system allowing you to distribute queued calls in linear priority, round robin, longest idle and ring all styles for call centers.
Call Assistant
Live answer position allows operators to easily manage incoming calls via pc software tool. (Running on Mac details)
Conference Center
Allows you to host conference calls with remote colleagues, internal employees, customers and business partners.
Dual Language Support
Provides voice prompts in two of the three offered languages (English, Castilian Spanish, and French Canadian)
Mobile Link for iOS and Android (Version 7.4 REACH™ predecessor)
Easy to use interface that allows you to change your presence settings, update your conference calls, and effortlessly listen to, record, or move your messages from your PDA.
Allworx REACH™ Smart Phone App
Allworx Reach™ gives you control over your communications with complete mobility, bringing the rich functionality of your Allworx phone to your Apple or Android smartphone.
TAPI
The Allworx TAPI TSP (Telephony Service Provider) Driver transforms your Windows-based PC into a communications powerhouse.
VPN
Allows access to the office intranet via a secure connection at a lower cost than other alternatives.
More Info:

NEW Allworx Reach™ Smart Phone App