Full PBX & Key Systems

Presence Management

Multi-Site Integration

Unified Messaging

Voice Over Internet

Customizable Features

High-Fidelity Voice

Powerful Conferencing

Connect Anywhere

Built to Last

Call Assistant™

Automatic Call Distribution

Conference Center™

Advanced Multi-Site

Dual Language Support





NOW AVAILABLE! (released August 2011)
Bring Allworx Business Phone System Management functionality to your smartphone with Mobile Link for Android. The easy to use interface allows you to listen to or send business phone system voicemails, change office phone presence settings or view conference calls from your Allworx business phone system PBX VoIP office phone.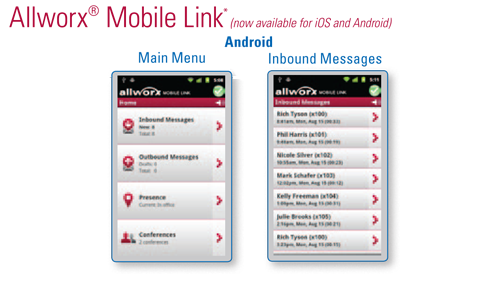 iAllworx - Available Now at the Apple Application Store
Available now on the Android Market

Key Features

View and change office phone presence settings
Manage, send, reply and forward office phone system voicemails*
Sold as an option:
One time license fee
Unlimited number of users†
Server software 7.1 or higher is required
*Includes all users in advanced multi-site.
†Support up to 32 simultaneous IMAP connections.
More Info:

Knoxville, TN
865.272.9674