Full PBX & Key Systems

Presence Management

Multi-Site Integration

Unified Messaging

Voice Over Internet

Customizable Features

High-Fidelity Voice

Powerful Conferencing

Connect Anywhere

Built to Last

Call Assistant™

Automatic Call Distribution

Conference Center™

Advanced Multi-Site

Dual Language Support





Allworx business office phones work seamlessly with the Allworx business office phone systems to provide a fully integrated communications solution. No matter what Allworx office phone system you select, you get all the same great business office telephone features and functionality in Knoxville, TN.
All Allworx business office phones are compatible with all Allworx servers.
Allworx 9224 IP Business Office Telephone
The Allworx 9224 office phone is today's premier high-fidelity IP office phone bringing the latest advancements in IP telephony to today's business leaders in Knoxville, TN. Supporting between 24 to 96 programmable function keys (PFKs) with the additional Tx 92/24 Office Phone Expander units, the Allworx 9224 office phone can deliver a multitude of call appearances, line appearances, speed dials, busy lamp fields and an array of other functions.
This well-designed and stylish office telephone is the ideal solution for everyone from executives who make and receive a high volume of calls to receptionists who must monitor a huge number of lines all day long. The intuitive design of the Allworx 9224 office phone allows users to upgrade from their old key system with ease – no retraining is necessary.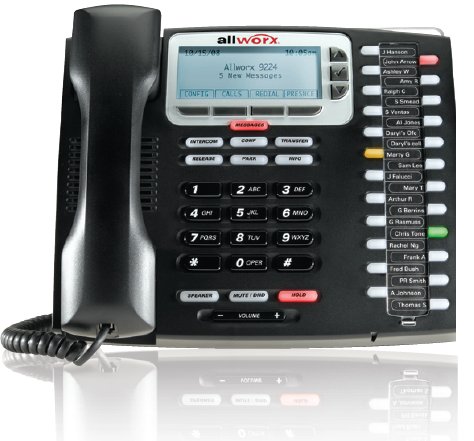 Allworx 9224 IP Business Office Phone Key Features:
Huge and easy to read 192×64 graphical backlit display
24 programmable function keys
Supports up to 24 line appearances
4 Soft Keys
High-Fidelity Voice Handset
Reversible handset hook
Dedicated Park and Hold feature keys
RJ-11 headset port
Navigation keys
Power over Ethernet
Visual Ring Indicator
Ethernet switch
Hearing aid compatible
Speakerphone
Dedicated presence button
Adjustable stand/Wall mountable

More Info:

Knoxville, TN
865.272.9674