Full PBX & Key Systems

Presence Management

Multi-Site Integration

Unified Messaging

Voice Over Internet

Customizable Features

High-Fidelity Voice

Powerful Conferencing

Connect Anywhere

Built to Last

Call Assistant™

Automatic Call Distribution

Conference Center™

Advanced Multi-Site

Dual Language Support





Allworx business office telephones work seamlessly with the Allworx business office phone systems to provide a fully integrated communications solution. No matter what Allworx office phone system you select, you get all the same great business office telephone features and functionality in Knoxville, TN.
All Allworx business office phones are compatible with all Allworx servers.
Allworx 9204 IP Business Office Telephone
The sleek, stylish design of the 9204 office phone is ideal for any office setting. If you have minimal need for call line appearances, the Allworx 9204 office phone is just right for you. Two additional outstanding features of this office telephone are the back lighted LCD display and the 4 programmable feature keys.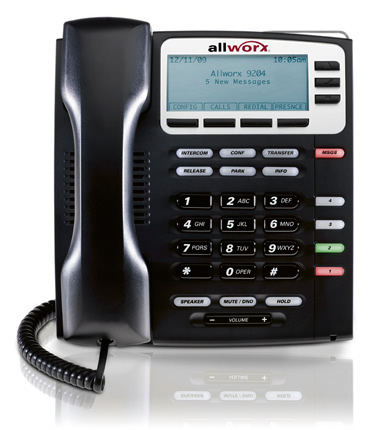 Allworx 9204 IP Business Office Phone Key Features:
4 programmable function keys
Easy to read 192×64 graphical backlit display with adjustable brightness
Power over Ethernet
High-fidelity voice handset
Wideband audio support
Full-duplex speakerphone
Plug-and-play headset connectivity
4 soft keys and 3 navigation keys for using phone's display menu
10 preprogrammed feature buttons
Visual Ring Indicator (VRI) to alert users of incoming calls
Wall mountable
4 party conferencing and whisper mode support in server software 7.2
Only supported with System Software 7.1 or higher

More Info:

Knoxville, TN
865.272.9674